Press release
Care Solutions
Shanghai, China, November 8, 2022
Evonik signs a direct supply agreement with Intercos Group
Evonik and Intercos Group ("Intercos") signed a direct supply agreement on November 7, 2022 at the 5th China International Import Expo (CIIE). The agreement unveils a new chapter of the cooperative partnership between both companies. As a result of the agreement, Evonik will provide Intercos with raw materials such as active ingredients, emulsifiers and cosmetic oils through a direct sales channel.
Signing during the 5th China International Import Expo (CIIE)
Strengthening cooperation and exchange in cosmetics industry
Commitment to fostering more efficacious, safer and sustainable products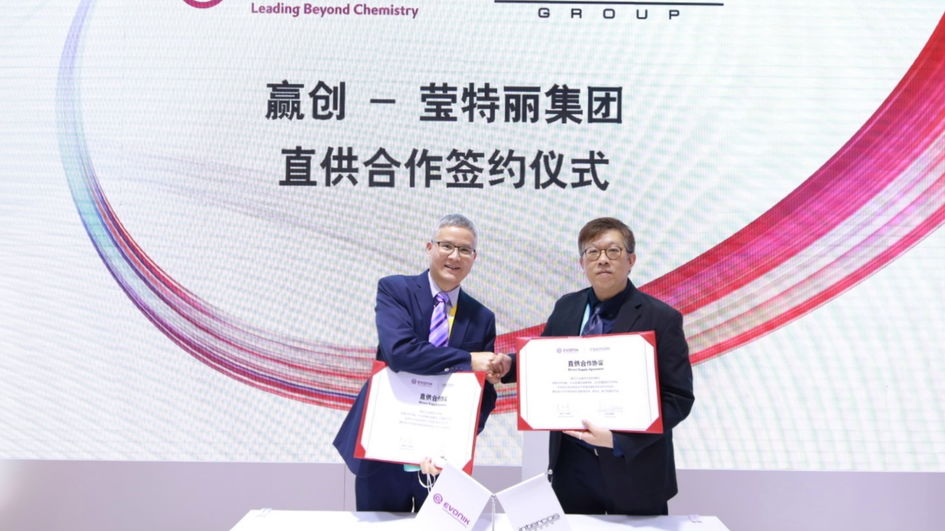 The agreement also stimulates comprehensive exchange and in-depth communications between the two organizations on innovation and production of beauty products to create more efficacious, safer and sustainable products for the local cosmetics industry.
With the implementation of China's new primary cosmetic regulation in 2021, the quality, safety and efficacy of ingredients is now in the spotlight more than ever. Furthermore, growing consumer concern for environmental and sustainability issues is requiring cosmetic brands to use scientifically proven materials with an outstanding sustainability track record.
Madeline Tan, regional business director in Asia North of Care Solutions, says: "Evonik and Intercos share similar visions, with sustainability driving our innovations. We look forward to joining hands with Intercos to create unique experiences for more consumers by bringing together our keen insights on the latest market trends and formulation capabilities. It's time to support the upgrade of the local industry."
Founded in 1972 and headquartered in Milan, Italy, Intercos is a leading global OEM/ODM supplier of makeup and skincare products as well as a strategic innovation partner for brand owners. By establishing manufacturing facilities and innovation centers in Shanghai and Suzhou in China, Intercos serves various well-known international brands as well as emerging beauty retailers with customized solutions covering research, development and production.
"In celebration of the 50th anniversary of Intercos Group, and on the 5th CIIE in 2022, we have ushered in an opportunity to cooperate with Evonik by direct supply," says Kelvin Kang, the sourcing director of Intercos China. "Together with Evonik, we strive to cater to the rapidly growing domestic market demands with good service, quality, price as well as agility, and by constantly providing highly competitive products with improved efficacy, safety, regulatory compliance and sustainability attributes to our multiple clients."
The Care Solutions business line is home to cosmetics and personal care solutions at Evonik. As part of Evonik's growth division, Nutrition & Care, Care Solutions is guided by a Vision that puts sustainability, innovation and collaboration at its core. An example of this in practice is the company's dedication to combining its scientific excellence and profound expertise to develop natural skincare solutions, without compromising on performance or skin gentleness.
Company information
Evonik is one of the world leaders in specialty chemicals. The company is active in more than 100 countries around the world and generated sales of €15 billion and an operating profit (adjusted EBITDA) of €2.38 billion in 2021. Evonik goes far beyond chemistry to create innovative, profitable and sustainable solutions for customers. About 33,000 employees work together for a common purpose: We want to improve life today and tomorrow.
Asia Pacific is a strong driving force of the global economy and an important source of innovation. Consequently, Evonik endeavors to further grow its business in the region. Sales reached €3.41 billion in 2021 and the company employs over 5,000 people at more than 50 production sites in Asia Pacific.
About Nutrition & Care
The focus of the business of the Nutrition & Care division is on health and quality of life. It develops differentiated solutions for active pharmaceutical ingredients, medical devices, nutrition for humans and animals, personal care, cosmetics, and household cleaning. In these resilient end markets, the division generated sales of €3.56 billion in 2021 with about 5,300 employees. 
Disclaimer
In so far as forecasts or expectations are expressed in this press release or where our statements concern the future, these forecasts, expectations or statements may involve known or unknown risks and uncertainties. Actual results or developments may vary, depending on changes in the operating environment. Neither Evonik Industries AG nor its group companies assume an obligation to update the forecasts, expectations or statements contained in this release.