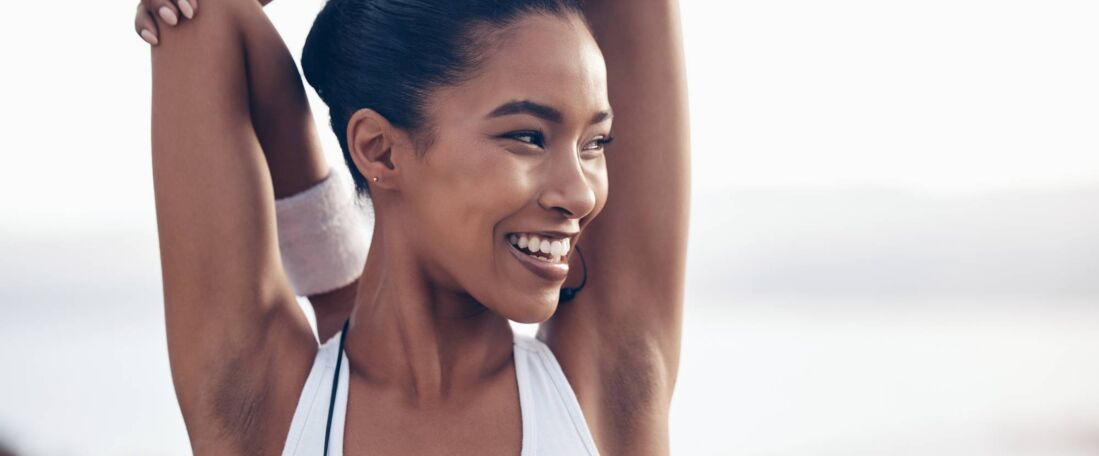 safe and natural deodorant solutions
Updated: Holistic care for underarm beauty
2023 is a year for self-care, body care, and environmental care. This extends to our underarms. 20 percent of consumers no longer use a deodorant, often because of health concerns.1 Evonik wants to change this trend by offering novel and natural underarm beauty formulations for day and night care. Keep your underarms fresh throughout the day with safe and natural deodorant solutions.
Background
Consumers across the globe are prioritizing their wellness and the health of the environment. Only 58% of gen z use APDO every day, compared to 77% of GenX+, signaling an opportunity to reengage as they are on the lookout for alternative odor control strategies employing natural, safe, and multi-beneficial ingredients that can successfully eliminate unwanted body odor experiences throughout their day.
Solutions
In addition to safe and natural underarm solutions, our 2023 relaunch of Underarm beauty now includes formulations that meet the standards for non-animal testing. These novel underarm beauty formulations are featured for around the clock care, starting with multiple daily deodorant formats to meet all preferences, followed by convenient formulations for refreshing underarms on the go, and lastly overnight care for brightening and continuous odor protection. Whether going for a morning workout or an evening dinner, with these formulations in hand, underarm beauty consumers can embrace their most natural and confident selves throughout their day.
New Earthy Deo Stick
New Ultimate Deo Roll-on
Intimate Deo Spray
Refreshing Deo Wipe
Glamour Deo Foundation
Rebalancing Scrub
New Brightening Overnight Serum 
Morning and Day Solutions:  
Earthy Deo Stick: An inclusive option sporting zero residue and the scent of bamboo extract inspired for all genders. This stick has a convenient format that controls body odor with dermofeel® G 3 CY, an intelligent antimicrobial deodorant with activity boost, and TEGODEO® PY 88 G an effective odor absorbent. The Earthy Deo Stick is transparent on the skin making it suitable for every skin tone and every color of clothing. We have incorporated a bamboo extract that makes this a perfect option for both men and women. 
Ultimate Deo Roll-on: A crystal clear roll-on gel for supreme odor defense perfect for the sustainable consumer as all ingredients are COSMOS compliant. This system incorporates both dermosoft® decalact deo MB and dermofeel® G 3 CY for controlling odor causing bacterial growth, dermofeel® TEC eco for inhibiting esterase, and TEGODEO® A30 eco for superior odor absorption. This Deodorant formulation successfully eliminates odor causing germs in ten minutes, including Corynebacterium tuberculostearicum, Corynebacterium xerosis and Staphylococcus hominis.   conforming.
Intimate Deo Spray: An effective deodorant spray that is gentle enough for freshening up for your intimate regions. This minimalistic formula utilizes dermosoft® decalact deo MB as the sole ingredient to control bacterial growth. This system also contains a natural solubilizer that enables the clear appearance and TEGO® Natural Citrus as an upcycled ingredient providing antioxidant and anti-inflammatory properties. Odor causing bacteria, Corynebacterium tuberculostearicum and Corynebacterium xerosis were both eliminated in 10 minutes and Staphylococcus hominis was eliminated within 30 minutes
Refreshing Deo Wipe: An on-the-go cleansing solution to refresh and wipe away odor throughout the day. This system incorporates TEGODEO® A30 eco for effective odor absorption. The system also includes our state-of-the-art Glycolipid, RHEANCE® One which has excellent skin compatibility and can gently remove sebum.
Evening and Night Solutions:
Glamour Deo Foundation: An innovative deodorant foundation to address hyperpigmentation of the underarm skin and dress up your underarms as you transition from day to night. This formulation utilizes a combination of dermosoft® decalact deo MB and TEGODEO® PY 88 G to addresses odor concerns while providing a flawless and even skin appearance.  With this underarm foundation, you will want to throw your arms in the air with joyful confidence!
Rebalancing Deo Scrub: An exfoliating scrub for beautifying the underarm skin while absorbing malodor, removing deodorant residue, and starting anew! This formulation uses Phytosphingosine to reduce the appearance of red, inflamed skin by soothing the skin and balancing its microflora. Perfect for use prior to shaving!
Brightening Overnight Serum: A multifunctional skin treatment for odor control, even skin tone, and deep beauty recovery. This brightening serum can be applied gently with fingertips or it may be formatted in convenient touchless packaging such as a roller ball. This smart solution includes dermofeel® G 3 CY which acts as the odor control ingredient in this formulation and intelligently boosts activation to movement. In addition to odor control, this serum effectively addresses long term skin tone modulation with three combined hero ingredients: TEGO® Pep 4-Even MB, for brightening of skin, UniTone®, which brightens skin by decreasing tyrosinase activity and reducing intra- and extracellular melanin levels, and HyaCare® Tremella a natural hyaluronic acid mimetic with moisturizing properties. After applying this serum in your nightly routine, you can sleep soundly knowing you'll wake to nourished, bright and odor free underarms.
With the Evonik deodorant actives, natural antimicrobials, and inspiring formulations described above, formulators can extend their natural deodorant ambitions to new products that provide the transparent natural solutions that their consumers are demanding.
There is even more to discover – find more formulations and information about this concept onn intoBeauty®.