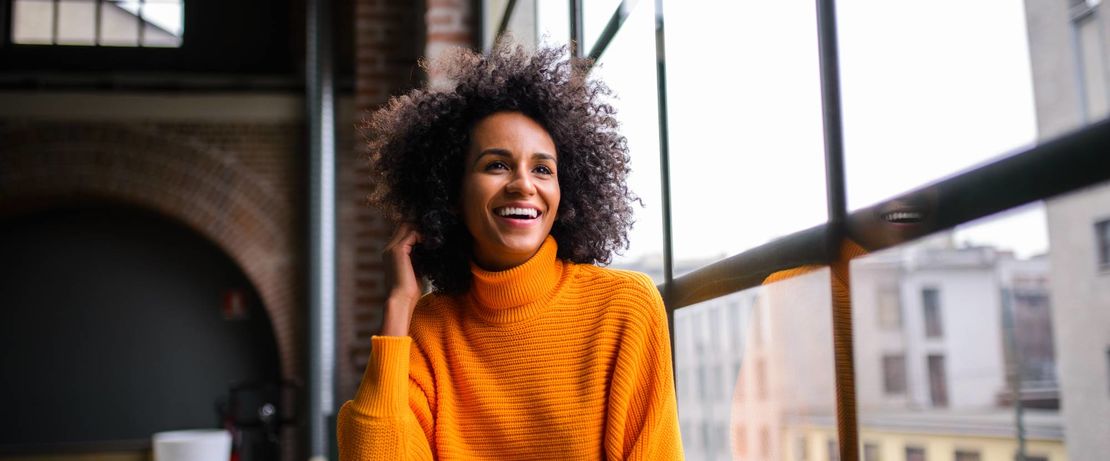 Curly you
Inviting curly consumers to boost-self confidence
Around the world, there is a global movement to embrace naturally curly hair. There is no longer a universal ideal of beauty, but the individuality of consumers is respected, by offering innovative solutions to meet their specific demands for their hair type.
The natural curly hair movement
Curls are the new mainstream in beauty. Globally, the demand for hair care solutions for curly hair has increased significantly. According to Google, curls are now the most frequent search category for hair, especially when it comes to finding the best products for curl styling and- for avoiding hair straightening. In Brazil, a research conducted by Mintel to understand the different hair types of Brazilians, nearly 70% of women declared to have natural wavy, curly or kinky hair. As for the US, the #1 hair care country worldwide, nearly eight out of ten Afro-American consumers have natural hair and prefer products made exclusively for their hair type.
One size does not fit all
Among different curvatures, curly consumers demand tailor-made solutions. As described in the below graph curly consumers have different needs based on their curl type. Taking these variations into account it is quite clear that consumers are looking for products that fit best their personal needs.
Inspired by face care, scalp care gains momentum
Because their scalp tends to be sensitive, curly consumers demand solutions as the first step of their hair care ritual. Thanks to consumers' increasing awareness, the hair care category presents important ingredient innovations crossing from facial to scalp care.
Scalp care is highly relevant especially for 4 ABC textures, as these consumers usually complain that after washing hair it usually takes more than a day to have scalp completely dry – the perfect environment for bacteria growth. Based on that, brands must offer antimicrobial and purifying scalp care systems for a more balanced and healthy hair.
Curly men – an important target audience
Men face the lack of options for curly hair type. To save time, they normally adopt wigs and braids, as a more on-the-go styling. One of the most important attributes a product should offer is convenience, meaning that it should be easily integrated into consumers' daily routine, and at the same time providing visible and long-lasting benefits.
Curly you – Evonik's three-step solutions for curly consumers
Evonik has developed a three-step approach in respect to the specific needs of curls:
1. Transition Phase: Process where individuals decide to stop chemical straightening to return to their natural hair texture. Evonik has developed three suggestive formulations to help consumers during transition to natural texture:
2. Everyday Routine: Curly consumers have unique demands and use until six different products daily, from gentle cleansing shampoos until deep conditioning and repairing solutions to keep their scalp and hair healthy-looking. Based on the most relevant attributes demanded by curly consumers, Evonik offers three suggestive formulations:
No-Rinse Everyday Refresher: On-the-go wipes for hair refreshing on hush days, formulated with TEGODEO® CW 90 E, RHEANCE® One and Verstatil® MBO, enabling easy and high-performing cleansing.
Damage Repair Antidote: Premium conditioner to restore damaged & fragile hair, enriched with a combination of two readily biodegradable conditioning agents VARISOFT® EQ 100 and VARISOFT® EQ 65 MB, as well as TEGO® Cosmo C 100, an amino acid derivative that improves the mechanical properties of stressed hair, rebuilding and strengthening the hair structure from within.
Gently Cleanse Sulfate-free Shampoo: Very mild and clear shampoo especially suitable for curly hair. Contains the combination of RHEANCE® One and REWOTERIC® AM C, especially recommended for mild cleansing and Verstatil® SL non GMO, an easy-to-handle blend preservative with broad antimicrobial performance, especially for surfactant systems.
3. Solutions for Bouncing Curls: Because of hush lifestyles, curly consumers desire convenient and easy-to-use solutions to keep their curls defined and protected against external aggressors. Styling is an important category to be explored, and attentive to that, Evonik offers four innovative styling formulations:
All in all, the Curly You concept brings innovative and tailor-made solutions, showing the importance that customization plays nowadays for beauty consumers. This is what we call The Soul and Science of Beauty.