Trade Show
EVONIK at the SCC '76 Annual Meeting, 2022
Thank you for visiting us at SCC '76 Annual Meeting, 2022! 
We enjoy sharing information with you about our extensive product portfolio, fit for your creative formulation tableau. 
Many years ago we set off on a quest to become sustainable specialties partner for the beauty and personal care industry. At SCC '76, we are excited to share of how far we have come and the road ahead. 
EVONIK at the SCC '76 Annual Meeting, 2022
December 12-14, 2022
Location: JW Marriott LA Live
Poster Stand Locations: 309, 311, & 313
Innovation Talk: PlexCys by Evonik
JW Marriott LA Live | December 13, 2022
4:20 pm – 4:40 pm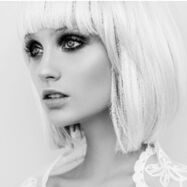 PlexCys: A Natural, Effective Alternative to Synthetic Hair Bond Multipliers
The human hair is daily exposed to stressors, such as pollution, UV rays, as well as physical forces, such as hair-combing (friction) and/or drying/strengthening (heating), which may lead to hair damages. Furthermore, the most common chemical hair treatments, bleaching and hair-dyeing, are also very harsh to the hair and cause extreme hair damage. Reestablishing healthy S-S bonds is a good strategy to repair damaged hair and prevent further damage. Most solutions available rely on synthetic molecules despite consumer interest in natural.
In this short presentation, Dr. Eric Ginsburg will give an overview of how Evonik has successfully addressed these naturality goals by developing a novel and natural hair-bond multiplier, Si-Cys-complex, which shows excellence performances on the hair.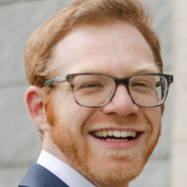 Eric Ginsburg, PhD
Applied Technology Manager – Active Ingredients
Eric Ginsburg received his Ph.D. in Medicinal Chemistry from Virginia Commonwealth University in 2020. His graduate work was focused on determining the mechanism of action of platinum-based therapeutics. Upon graduation he started with Evonik as a process chemistry working in their Hopewell Virginia plant. During his time at the plant, Eric supported production by developing methods to help increase robustness of products, while minimizing reactor downtime. In December of 2021, Eric joined the Applied Innovation team, where his role is centered around the research and development of Active Ingredients. 
To download all poster materials, please visit intoBeauty® 
Showcased Posters by Evonik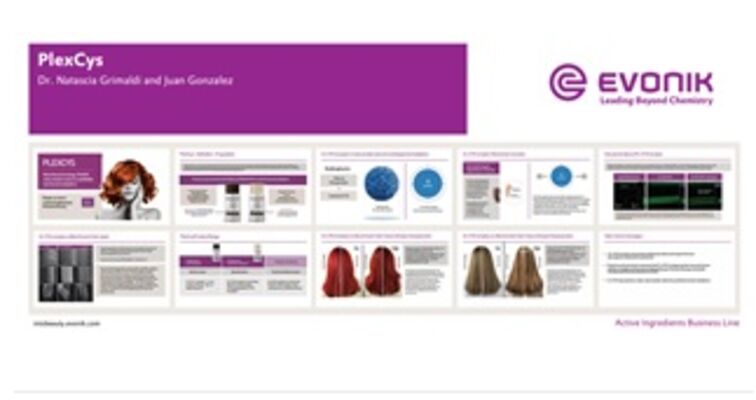 PlexCys by Dr. Natascia Grimaldi and Juan Gonzalez
Traditionally, hair color, bleaching and other chemical, thermal and mechanical services have been limited due to hair damage and sensitization. At present , the cosmetic industry offers powerful repair and protection (pre and post) treatments which allow hair stylists to increase their creativity by pushing the boundaries of hair color and bleaching without damaging the hair.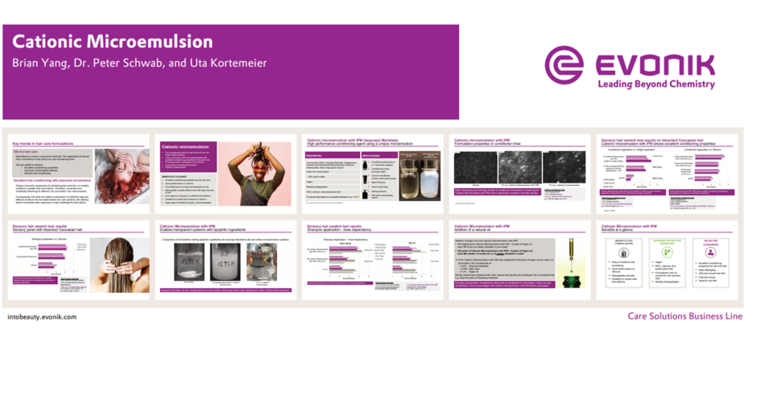 Cationic Microemulsion by Brian Yang, Dr. Peter Schwab, and Uta Kortemeier
Today's consumer awareness of maintaining skin and hair in a healthy condition is greater than ever before. Therefore, consumers are constantly searching for efficient, but convenient, hair care products. Consequently, the clear and stable incorporation of relatively high and effective levels of oils into water-based hair care systems with offering decent viscosities often represent a major challenge for formulators.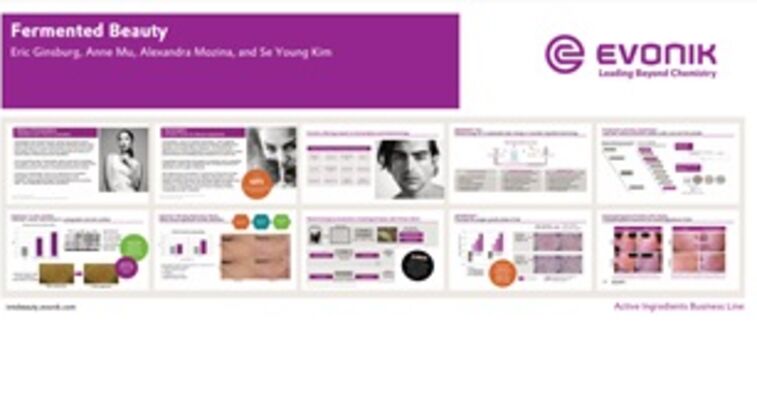 Fermented Beauty by Dr. Eric Ginsburg, Anne Mu, Alexandra Mozina, and Se Young Kim
Looking for market gaps, there is an opportunity to reposition fermentation from a fully natural space towards a more scientific, cutting-edge tech space, proving efficacy and providing safer, more sustainable alternative ingredients.
SCC Award Winner: Anna Howe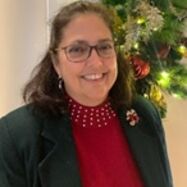 Congratulations! Anna Howe is the official winner of the Society of Cosmetic Chemists Award 2022, for her SCC75 presentation entitled, Bottle Your Sustainability Goals – Minimize Your Environmental and VOC Footprint in Sun Care Products.
The SCC Award recognizes the best paper presented at the preceding SCC Annual Scientific Meeting that made the greatest scientific contribution to knowledge in the field of protecting against or ameliorating damage to human skin caused by exposure to UV radiation.
Anna Howe is an Applied Technology Manager for the Personal Care business of Evonik. Anna earned a B.S. in Chemistry at Virginia Polytechnic Institute & State University and holds several application patents as well as authored several scientific papers in the personal care arena. Though Anna has many great accomplishments, she claims her most esteemed accomplishment is "Family".
Anna will be accepting this award at the Awards Breakfast on Wednesday, December 14, 2022 at the SCC 76th Annual Scientific Meeting & Showcase. Please join our Evonik family in congratulating Anna on this accomplishment! 
Evonik's Indie Beauty Boutique - Small MOQs to fill your big dreams!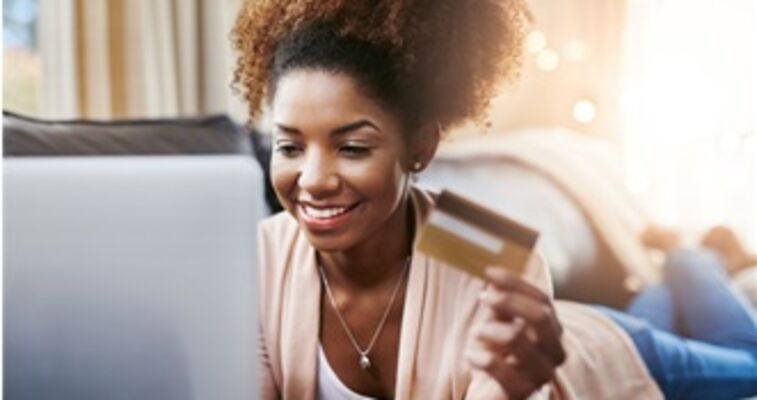 The Indie beauty boutique is newly launched for small business partners. Enjoy direct access to Evonik's personal care portfolio across a broad range of markets and applications: active ingredients, active delivery systems, skin care, sun care, color cosmetics, hair care and skin cleansing, alternative preservation, and product stability.
Customers leverage Evonik's innovative technology ingredients in small MOQs on the indie beauty boutique for personal care formulation developments. With sustainable and regulatory-compliant ingredients, Evonik is here to support you on your business journey to success. Register today and enjoy our offerings that fit your formulation tableau.
Current offerings include: Active Ingredients, Antimicrobials, Conditioning agents, Emollients, and Surfactants.
Evonik Service Solutions
Evonik Care Solutions is a dedicated team of cosmetic experts working in cosmetic product development. At every step of the process, from formulation development to market-ready products we are committed to exceeding your expectations and perfectly transforming your cosmetic idea into reality.
Our team is well connected in the cosmetic industry and highly familiar with the specialties of the ever-changing beauty products. We partner closely with you in every step of the way. You will experience an entire process that ensures that your needs are fully met and that your cosmetic ideas are brought to life. Clean beauty isn't just about the ingredients you select, it's also about the development process from start to finish. Evonik Care Solutions is an advocate for sustainable cosmetics and processes, so we can help you get the best results for your eco-friendly cosmetic products.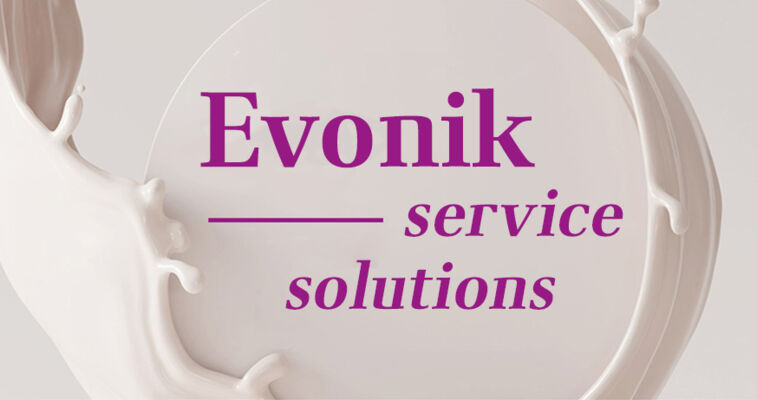 EVONIK SERVICE SOLUTIONS
From MIND To MARKET
Growing your business? We support small business and indie brands with our Indie Beauty Boutique*, which allows you access to the most innovative ingredients in precise quantities both efficiently and direct to you with a credit card. ... MORE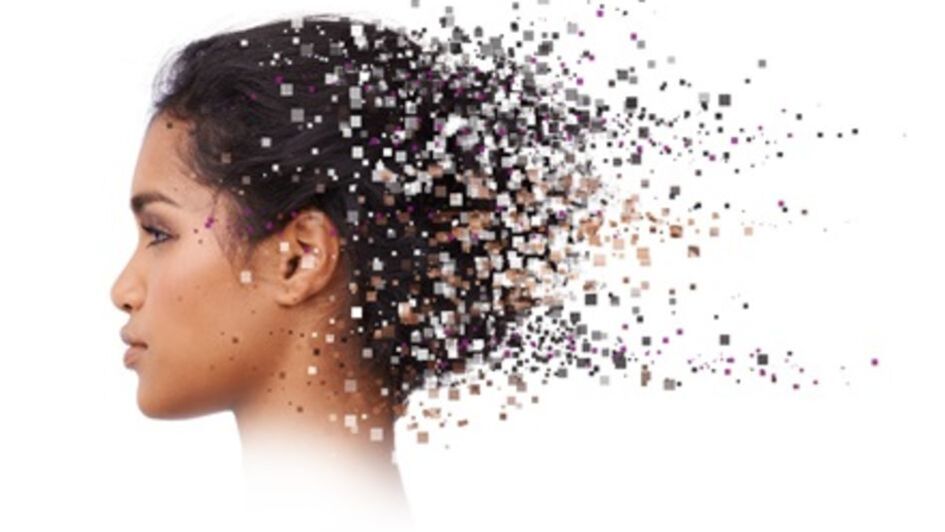 CAREtain® Toolbox 
Want fast access to product sustainability information? Visit our CAREtain® toolbox to obtain key data to deliver the naturality you seek!
Product Protection Guide
Explore our portfolio of high-quality and innovative raw materials containing a wide range of natural and sustainable alternatives for stabilizing and protecting cosmetics.
Trend-Inspired Concepts
Our trend-inspired concepts target worldwide consumer trends and offer inspiring formulation i