Topic of the month march 2019
New textures & sensory experiences
New textures and sensory experiences play a key role in today's cosmetic products. With innovative textures to give a vibrant skin feel, consumers can now enjoy their daily beauty routines even more.
Trying a new product is an intense sensorial experience: consumers first see how the product looks, then they smell it, touch it before feeling it on their skin. It's this "skin feel" of a cosmetic formulation that forms one of the main factors influencing consumers' purchase decisions and their loyalty to care products.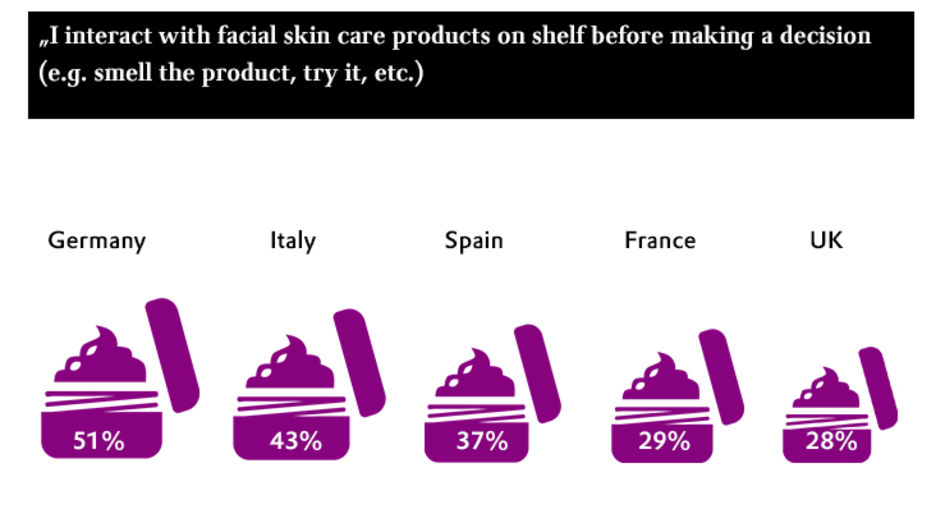 As can be seen in the graphic above, a lot of consumers want to interact with cosmetics in store before making a purchase decision, so it's more and more important to develop products that offer a special skin feel as well as delivering performance benefits. A new texture means a fun and new experience to the consumer: it is like a special treatment and gives an upgrade to the product. Because of this, traditional textures have taken a step back and new creative textures are now a succesfull trend in the market.
Skin care textures
Masks with mud textures that can transform into micro bubbles and break into droplets using water-oil-based serums are easy to use (especially on the go), as they can be stored in portable sticks provide just some of the new formats that can be found on the shops shelves.
Especially fun to use are the 'transforming textures,' which are perfect to impress the consumer to give them the "wow effect". It can also be combined with the industry trend of offering more natural texture formulations… what creates a better surprise to the senses than using natural ingredients?
How about an Oil Release Cream? – A product that looks like a cream but releases a caring oily layer when applied on the skin? Or, maybe a skin balm that reminds you of vanilla ice cream? These are only two of the formulation examples that we offer in our texture concept.
Hair care textures
Our texture concept can also be applied to hair care formulations to help consumers enjoy their hair care routines even more. Consumers tend to be highly loyal to their hair care products, so a novelty factor is often crucial for attracting new consumers, and a multi-sensory approach to haircare formulations could be the key to success.
A clear and colorless conditioner, a dense foam texture with good conditioning effect, a hair stick for ponytail and braided hair styles are just some of the new formats possible for the hair care market. Click here to find out more on our hair care textures.
Intense physical and sensory experiences give products a much deeper meaning and the brands associated with strong sensations are more successful. For all these reasons it is often necessary to dare to take a risk, to cross the boundaries and take inspiration from other categories to keep playing with new formats and textures. With creativity and experimentation, it is possible to offer a new experience and more fun to beauty consumers!
Product of the month
ABIL® Care XL 80 MB is a silicone O/W emulsifier that shows an outstanding combination of stabilization and formulation flexibility, while providing sensorial benefits. It provides a velvety silky skin feel to a formulation and adds a long-lasting skin smoothing perception. This liquid emulsifier is especially easy to process, as it is cold-processable and allows a broad range of formulations.
ABIL® Care XL 80 MB contributes to the production of certified sustainable palm oil according to the rules set out by RSPO Mass Balance Supply Chain Model.
Formulation of the month
Skin Refreshing Lemon Sorbet (pdf, 94 KB)
Surprise your senses and refresh your skin with this emulsion-gel formula with a lemon sorbet-like smell and appearance. The gel texture transitions to a moisturizing fluid once applied on the skin and leaves a hydrated and fresh skin feel after application. The formulation is based on ABIL® Care XL 80 MB, the cold-processable O/W emulsifier for a silky skin feel.